RECUPERATOR
Recuperator R XXXX is a recuperative device used to extract heat energy from the flue gas. It is designed to be easily connectable to Thermstar 2000 infrared radiant systems (infrared heater), and together they form a compact unit. The transmission of thermal energy of the flue gases is provided by a heat exchanger in which the heat energy is passed through the recuperator to the surrounding environment in the premises. The radiant system in connection with the heat exchanger has measured combustion efficiency at the output in the range of 97 – 103 %. The resulting efficiency of the combustion is affected by the type and power of the infrared heater, the type of recuperator used (its length) and the type of chimney in place.
Operational principle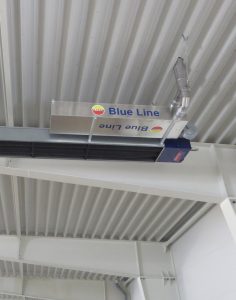 From the infrared burner, the hot flue gases flow into the heat exchanger connection point. By flowing through the heat exchanger the heat energy is transferred to the walls of the heat exchanger, and the cooler air supplied by the heat exchanger is heated therefrom, while the combustion gases are cooled. This air is warmed up to about 65 ° C. Warm air is blown into the hall and contributes to economical heating of the premises. The cooled flue gases are drained out to the outside.
RECUPERATOR 1500 - 2500

R 1500

R 2000

R 2500

Height /m/

250

250

250

Width /m/

500

500

500

Length /m/

1500

2000

2500

Weight /kg/

23

28

34

Intake of flue gases - flue gas D /mm/

130

Exhaust of flue gases D /mm/

100

113

130

Power supply

230V/50Hz * 0,3A * 65VA

Amount of air /m3/h/

500

Noise Lp /dB/

56

Ambient temperature /°C/

- 15 to +50

Exhaust gas temperature /°C/

65 to 120

Outlet air temperature /°C/

50 to 65